Blog Archives
While Gina keeps me very busy these days, I've had plenty of time to think about what I want to do with this space.
THE ENIGMA OF GAMING… I'm just not that into it anymore.
Nothing has garnered more hits on this blog than my gaming articles. On December 17th 2011 I posted Can't connect to EA Servers? SOLVED… maybe. Since then it has had 17,656 views. That's almost 20,000 people who have had a problem with Electronic Arts' servers in the past 8 months (mostly connecting with FIFA 12 from what I can tell by the search stats) and somehow managed to find my little backwater hole in the darkest depths of the world wide web to try and find a solution. That's roughly 20,000 people that could not find a solution directly from EA. That's roughly 20,000 people who will undoubtedly purchase FIFA 13 despite the precedent EA has set with them. On January 1st 2012 I posted FIFA 12 Control Reference Sheet for Xbox 360. It has had 13,266 views and counting. More than half that number downloaded the reference sheet. Only two people (so far) have bothered to take a moment of their time to thank me for creating something useful for them. I posted it on reddit and gamers bitched that I hadn't done a PS3 version and gave me the thumbs down. Are gamers so bleeding stupid they lack the common sense to correlate the buttons from two distinctly similar controller layouts together?
I grow more jaded and disillusioned with every exercise of corporate pomposity and bureaucratic nonsense I read about, with every nauseating example of fan boy sycophancy I come across, with every ass kissing rim job article by so called "professional" gaming journalists I have the displeasure of uncovering. I no longer feel much of the industry deserves the love, loyalty and respect someone like me is capable of giving. Developers are ego-driven tyrants (all corporations are these days), the journalists all graduated Summa Cum Laude from Rupert Murdoch's School of Unscrupulous Reporting and, with the exception of roleplayers, most of the community leaves a lot to be desired. I'm done wasting a majority of my efforts in this area. In the future the focus around here will be less on games. I'm still a gamer, born on the Atari 2600, will be till the day I die…
THAT BEING SAID… recent gaming experiences!
In Fallout 3 I couldn't blow up Megaton no matter how nice the apartment in Tenpenny Tower. I can't play a bad guy, it's not my nature. At least not these days, I don't think I've ever been a bad guy in my lifetime, definitely an asshole from time to time–but never a bad guy. Got my wisecracking "red-headed, punk stepchild of the wastelands" up to level 20 before I realized I was utterly bored with him. I padded his stats (sacrificed his charisma at creation) and by level 20 he was just sneakin' around the wasteland one shotting everything with bad ass lasers he found on an alien spaceship… So I re-rolled, didn't pad the stats and went for a more charismatic approach to the game. Called him J.T. Kirk because I really couldn't think of anything better at the time and got him to level five before I became preoccupied with something else…
For my b-day I picked up Driver: San Francisco for $18. Best f—ing driving game I've played on the 360 yet! I'm only an hour or two into the game (thank you Gina!–joking, anything you need doll face, anything at all, you're more important) and I'll be doing a brief write up on it in the future. It brings to mind the great time I had playing Interstate '76 on the PC back in the 90′s. It also brought back faded memories of playing the original Driver (another all-time great driving game, but overshadowed in my recollections by I-76). And because my wife is a gem that I certainly do not deserve, she gave me Batman: Arkham City GOTY for my 43rd, another game I've been salivating to play but can't talk too much about right now because I'm only about an hour or two into it.
No, I'm not giving up gaming. Just relaxing a bit on the love I show it around here.
WRITERS NEED TO READ…
Something I have not been doing much of for a while now. I've been reading a lot of web related material, shorts and stuff but I haven't opened a book in a while. I promised my good friend, Eric Swett, I'd read and review his first novel Apocalypse Rising. I read it piecemeal when he had it going on his blog and now I get the chance to just sit back and enjoy it in its entirety. So you'll all have that to look forward to soon.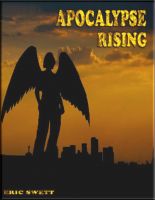 Unlike most gamers, writers are kind and encouraging people. I started a Twitter account (@ajbeamish) to ask Electronic Arts why all the official servers disappeared on Battlefield 3 when they implemented their rental servers even though I knew the answer was "because we're a bunch of greedy twats and you're stupid enough to keep throwing your money at us," and thanks to the charming and rather witty Nicole Chardenet (@nchardenet) giving me a wee bit of undue praise (gaming guru, Nicole? like I need to be pigeonholed!) I have 18 followers, most of whom I don't know from Adam but I'm sure they are writers so they can't be all that bad.
That brings me to Michael R. Hicks (@KreelanWarrior) a kind soul who has decided to give us all a couple of his works absolutely free. I'm looking forward to reading them over the coming weeks (after I get done with Eric's Apocalypse Rising first, of course). Get your copies from Michael's web site.
AND NOW THE PLAN IS…
Self publication (after I get the first drafts up). Eric, Nicole and my other new found writing buddies along with the many courageous souls who have decided to brave self-publication in this digital age have inspired me. I've already started putting up more of my writing on this blog and there are more draft posts waiting to be edited and cued up. My fear of getting published, whether it was of failure or actual success is diminishing. Exposing my talents (or lack thereof) here has helped me with that, along with the likes, comments and subscriptions they garner.
ADVENTURES IN TECH…

We took a leap into uncharted territory–for us anyway. My wife and I went out and got a couple of smart phones. The HTC Amaze to be exact. While I was doing research for peripherals and appropriate apps for my new phone, I noticed there wasn't any dependable information out there for much of it. Any blog I found regarding accessories for the device seemed to be a cut and paste "Amazon will pay me if you click this link" job rather than an objective, independent review. And there is no decent documentation regarding many of the apps and utilities you need to run on the phone. Expect to see me writing some useful (I hope) pieces on this.