Category Archives:
Xbox 360
Click here for part 1 of my NHL 13 game review.
THE DEVIL IS IN THE DETAILS FOR THE PERFECT GAME
As with any EA Sports title, not all is copasetic out of the box. You will need to spend some time adjusting the sliders to your taste and skill level and keep adjusting them as you get better. I'm using Cycloniac's TrueSim NHL 13 Sliders right now, tweaked a little to my taste and skill level. I'm not winning a lot of games with these sliders but the games are close and they feel right. I'm also pretty honest with myself and understand that I'm not winning because I basically suck right now. Most important, I'm having fun playing it.
 To say the commentary by Clemente and Thorne is uninspired would be to give it far too much credit.
GRAPHICS AND PRESENTATION
NHL 13 looks fantastic. Everything has been vastly improved upon over NHL 10. Players animate more fluidly and look significantly better (especially the goalies). The stadiums seem to be more detailed even if the crowds occupying them are not as dynamic as the crowds in FIFA 12. The presentation and highlights pull you deep into the simulation and the rink sound effects are simply amazing. Being able to play the Winter Classic brings tears to my eyes every time and EA's attention to detail here is commendable.
That being said, to say the commentary by Clemente and Thorne is uninspired would be to give it far too much credit. It seems as though I've been listening to the same drivel for ten years too long now. Not only is it some of the most unenthusiastic commentary to ever rear its ugly head in a sports sim, it's simply wrong half the time. Attempt a basic and unsuccessful deke on open ice with naught an opposing player in sight and they'll talk about the 'fancy moves' you just pulled off to get around the defenders.
I've been playing FIFA 12 for a year and I'm still not tired of hearing Martin Tyler, Alan Smith, Clive Tyldesley and Andy Townsend tell me how much I suck when it's appropriate.  The NHL series doesn't just need to add more commentators into the mix, they need more enlivened commentating. Clemente and Thorne are going through the motions and collecting an easy paycheck. This could have something to do with voice direction as well. EA should get the lads working behind the scenes on the voiceovers for FIFA to fix what has become an excruciatingly stagnant feature in the NHL series.
And the music… GOD, THE MUSIC SUCKS BIG ELEPHANT DICK! Yet, I'm inclined to give EA a slight break on this issue. Lets face it, going to a hockey game in the 21st century is like popping on the 8-Track in your dad's Ford Pinto only to be met with the inevitable exclamations of 'wow, I haven't heard that song in years' from your fellow passengers. What is it with the NHL and its propensity for aging crappy, one-hit-wonder rock bands with big hair and modern bands that sound like aging crappy, one-hit-wonder rock bands with big hair? And for God Awfuls sake stop with the 'WHOA-OW-OW' songs already.
What's the point of being Gretzky in 1981 if Messier isn't next to you on the bench and Grant Fuhr in-between the pipes?
GAME MODES
You have a lot to keep you occupied. Be A GM is a much more in-depth experience than it was in NHL 10, revamped more for someone who only wants to manage the team and sim the games. It's peeked my interest a little but I probably won't get into to it much. Season play and Be A Pro is my thing. I'm very pleased with the ability to sim to the next shift in BaP as it makes for a much more realistic experience without wasting your free time watching the CPU play and hearing your teammates chatter on the bench around you is a nice, immersive touch.
NHL Moments Live is a half-assed premise. Doubly so because of the lockout. What's the point of being Gretzky in 1981 if Messier isn't next to you on the bench and Grant Fuhr in-between the pipes? Maybe this mode could somehow shine given some present day events to emulate but chances are we won't find out. This mode has no appeal to a hockey purist such as myself. Is it too much to ask for a little historical accuracy?
MULTIPLAYER
I don't buy EA Sports games for the multiplayer. The ship of fun sailed off into the horizon on EA's multiplayer experience when corporate's grubby, greedy little hands delved far too deep into what used to be a very pleasant, fair and balanced experience.
While GM connected appears to be a great idea, it ultimately fails in practice. You'll spend far too much time watching loading screens because, quite frankly, for all their money, EA servers are slower than a Commodore 64 trying to load Windows 8. Needless to say, want to guess which post of mine has garnered over 30k hits? This one. You do the math.
Enter the EA Sports multiplayer realm at your own peril.
NHL 13 is good were it counts. The improvements they've made to gameplay since NHL 10 are vast and for the better of the franchise. I'm finally enjoying playing the series again.
THE FINAL WORD
Is NHL 13 a $60 game? All things considered, H-E-DOUBLE HOCKEY STICKS no.
Online play is sketchy at best. They've had problem after problem after problem with Hockey Ultimate Team mode. If you want to compete your Be A Pro skater online you'll need to shell out more cash for equipment bonuses or be at the mercy of those who do. Be A GM mode is time consuming to play and while it can be argued that this is because the CPU has more numbers to crunch it still manages to make idiotic decisions that will leave you shaking your head. If single player Be A GM mode is slow, GM Connected is excruciatingly slow. NHL Moments Live is useless without a real LIVE NHL season to fuel it. And it's not like they have to do much in the way of roster updates. There are just too many broken aspects of the game for me to reconcile it as a $60 purchase.
NHL 13 is good were it counts. Great even. The improvements they've made to gameplay since NHL 10 are vast and for the better of the franchise. I'm finally enjoying playing the series again. For those that never fail to purchase each years iteration of the franchise these improvements may hardly be noticeable. Electronic Arts should shift their EA Sports development cycles to one every 3 years, instead of every year and charge people a modest fee for roster updates in the interim.
I would easily pay $40 ($45 in a pinch) for NHL 13 but not $60. I'm elated I got it for $25. If EA didn't nickel and dime its loyal fan base to death I might be inclined to pay $60 for it, but EA does nickel and dime us to death and I've spent far more money on the NHL franchise than I care to remember.
NHL 13 LINKS
Back on the Sega Genesis I purchased every iteration of the EA Sports NHL series that was released. This practice continued when I abandoned the Genesis for PC gaming. Each release brought something new to the table back then. These days? Not so much. Which is why I don't bother with the series every year anymore. Going into this review you need to understand I've been playing NHL 10 since 2009 and my overall opinion of NHL 13 is highly affected by this.
With the greedy owners, their lockout and no Atlanta hockey team to support, I'm not all that passionate about hockey these days. I haven't played NHL 10 in over 4 months. However, a hockey game has always been a healthy part of my gaming diet and when I saw NHL 13 on an Amazon lightning deal for $25 I couldn't resist.
While there is some discourse on the forums–the only place to get an honest review of a game that isn't paid for in advertising dollars and gifts (so long as you are capable of sorting through the whiny gamer bullshit)–regarding this years changes, most of the whining seems to be from kids who can no longer glitch goal their way to a win and have never seen or played a real hockey game in their entire life. I feel a lot of disillusionment can also be contributed to people suffering through incremental changes that are blurred by the reality of basically playing the same bloody game year after year. Fortunately for you, I'm not under the influence of this self-inflicted tunnel vision.
All this hockey gaming goodness comes at a price. You're not going to just jump into NHL 13 after playing the series religiously for the past twenty odd years.
SINGLE PLAYER: THE ONLY REASON I STILL BUY EA SPORTS TITLES
Coming from NHL 10 to NHL 13, it couldn't be a more perfect hockey game. I'm almost as impressed with it as I was with FIFA 12 (I'd probably be more impressed if I wasn't so disenchanted by the lockout). With the exception of NBA2K there is no better single player sports experience out there than EA Sports. None, and I'm honestly surprised EA has kept this consistency throughout the years despite its corporate blundering in almost every other area of game development.
EA SPORTS' PLAYER IMPACT ENGINE NEEDED SOMETHING MORE IN NHL 12
When I played the NHL 12 demo last year I felt there was something missing with the collision system. Checking felt more like thudding. It could have been me because there was no happy medium in NHL 10 for checking, you either went arcade outlandish or futzed about on the ice feebly saying 'excuse me' to every forward that tried to blow by you. Even so, there was something lacking in NHL 12. In FIFA 12 the new collision system was introduced along with Tactical Defending and Precision Dribbling, and this mix of new experiences added vivid life to the FIFA franchise whereas the Impact Engine alone took a bit of the impact out of the NHL 12 demo.
TRUE PERFORMANCE SKATING, THE MISSING INGREDIENT
While I'm sure the impact engine has been improved on–well timed checks feel solid again–the addition of True Performance Skating to the mix is the ingredient that pulls it all together. The Impact Engine and True Performance Skating combine to make everything else in NHL 13 shine.
In NHL 10 I could easily skate by defenders without protecting the puck and not using dekes. Not anymore. Learning how to effectively protect the puck and pull off a simple deke at the precise moment in NHL 13 is an absolute must if you intend to play on any skill level above rookie. Every game mechanic in NHL 13 has more meaning now. More substance. From stick lifts, puck chops and poke checks to positioning and checking to coaching strategy and line changes; it all matters more because of True Performance Skating and EA's new Impact Engine.
EVERYTHING IS SIMPLY BETTER NOW
The goalie animations are beautiful to watch. Goals are far more realistic and less glitchy. More pucks trickle and creep in off the goalie than fly uncontested into the netting. Five hole goals happen more often and you've got a good chance of scoring if you can coax the goalie into overstepping his stride. I haven't seen a save or goal yet that ushered an 'oh right, like THAT could really happen,' reaction from me.
You don't get called for interference every two bleeding minutes like in NHL 10 (something that was also noticeable in the NHL 12 demo). I, or any of my CPU teammates, have not taken a penalty we did not deserve in the twenty odd games I've played so far. Sure, it's fairly easy to trip someone with an errant poke check, but for the first time in franchise history I can honestly say it's the user's fault and not the CPU cheating. Stop spamming the right bumper and you won't be spending much time in the penalty box. If you're behind the puck carrier go for the stick lift instead. You have to start understanding, everything is situational now. EVERYTHING. You want to score? Cycle the puck, shoot through traffic, shoot low, shoot high; everything you do–if you do it in the right situation–can create a goal or a rebound.
The Artificial Intelligence of the CPU controlled players is leaps and bounds better than the game's predecessors. Players are almost always positioned properly and the CPU learns as it plays you. You won't be getting away with the same faceoff move or cross-crease pass if you repeatedly use them.
If I had one complaint about the new game mechanics it would be Net Battles. I haven't actually engaged much in Net Battles, but there seems to be this black hole vortex area in front of the net that wants to suck you in. It's as though the defender is reaching out and grabbing you with his arm and pulling you back, only he's not.
EVEN THE GREAT ONE PRACTICED
I won't lie, all this hockey gaming goodness comes at a price. You're not going to just jump into NHL 13 after playing the series religiously for the past twenty odd years. You need to spend quite a bit of time in Free Skate to get used to it, and I have. More so than I spent time in FIFA 12 futzing around in the virtual stadium with my Be A Pro. It also helps if you know how to play real life hockey. The kid who has only seen pixelated hockey his whole life will not enjoy this game.
I picked NHL 13 up on an Amazon lightning deal for $25. With the lockout and the fact I'm still plugging away with NHL 10 I have to admit I'm pretty psyched about it.
As with all my sports titles, the first thing I did was create a controls cheat sheet. I don't have the game yet, however, I did my research and believe I've nailed the controls down. I used an old deke guide from NHL TIPS that was made for NHL 10, from what I can tell nothing has changed. I added the Manual Spin-o-rama to the deke list. Keep in mind, due to space constraints I could only include explicit instructions for right handed players. You have to reverse direction(s) for left handed players.
Not to toot my own horn or anything, but I was pretty impressed with how much information I was able to fit on this one. Not only did I get a condensed version of Jayson Young's (Operation Sports) fantastic coaching guide, I also managed to fit some of Jayson's goalie tips and a celebrations guide to boot!
Feel free to download and print it out. I hope it helps all my fellow casual sports gamers out there. If you notice a discrepancy please inform me (politely, but that should go without saying) in the comments section and I will fix it if there is a problem. Feel free to drop me a thank you there as well; it's nice to know when you are appreciated. Douchebag and immature gamer comments will be ignored or pounced upon like a wolf on the fold with neither grace nor glory (depending on what mood I'm in).
(click on the picture to download the file)
I uploaded it and a bunch of older controller reference sheets, most for original Xbox games and some for 360 games, to my b33m3R's DOCS Box.com space, in the Gaming folder. Go have a browse, scroll down a little and the Box app is off to the right there>>>
EDIT 12/10/12 – Simplified the Dekeing 101 area. Renamed it BASIC DEKES and just put the dekes I believe to be most helpful during normal gameplay and added a note to visit nhlguides.net for more advanced dekes. Also made a few other minor cosmetic changes to clear up the clutter or make things clearer.
As always, YOU'RE WELCOME!
While Gina keeps me very busy these days, I've had plenty of time to think about what I want to do with this space.
THE ENIGMA OF GAMING… I'm just not that into it anymore.
Nothing has garnered more hits on this blog than my gaming articles. On December 17th 2011 I posted Can't connect to EA Servers? SOLVED… maybe. Since then it has had 17,656 views. That's almost 20,000 people who have had a problem with Electronic Arts' servers in the past 8 months (mostly connecting with FIFA 12 from what I can tell by the search stats) and somehow managed to find my little backwater hole in the darkest depths of the world wide web to try and find a solution. That's roughly 20,000 people that could not find a solution directly from EA. That's roughly 20,000 people who will undoubtedly purchase FIFA 13 despite the precedent EA has set with them. On January 1st 2012 I posted FIFA 12 Control Reference Sheet for Xbox 360. It has had 13,266 views and counting. More than half that number downloaded the reference sheet. Only two people (so far) have bothered to take a moment of their time to thank me for creating something useful for them. I posted it on reddit and gamers bitched that I hadn't done a PS3 version and gave me the thumbs down. Are gamers so bleeding stupid they lack the common sense to correlate the buttons from two distinctly similar controller layouts together?
I grow more jaded and disillusioned with every exercise of corporate pomposity and bureaucratic nonsense I read about, with every nauseating example of fan boy sycophancy I come across, with every ass kissing rim job article by so called "professional" gaming journalists I have the displeasure of uncovering. I no longer feel much of the industry deserves the love, loyalty and respect someone like me is capable of giving. Developers are ego-driven tyrants (all corporations are these days), the journalists all graduated Summa Cum Laude from Rupert Murdoch's School of Unscrupulous Reporting and, with the exception of roleplayers, most of the community leaves a lot to be desired. I'm done wasting a majority of my efforts in this area. In the future the focus around here will be less on games. I'm still a gamer, born on the Atari 2600, will be till the day I die…
THAT BEING SAID… recent gaming experiences!
In Fallout 3 I couldn't blow up Megaton no matter how nice the apartment in Tenpenny Tower. I can't play a bad guy, it's not my nature. At least not these days, I don't think I've ever been a bad guy in my lifetime, definitely an asshole from time to time–but never a bad guy. Got my wisecracking "red-headed, punk stepchild of the wastelands" up to level 20 before I realized I was utterly bored with him. I padded his stats (sacrificed his charisma at creation) and by level 20 he was just sneakin' around the wasteland one shotting everything with bad ass lasers he found on an alien spaceship… So I re-rolled, didn't pad the stats and went for a more charismatic approach to the game. Called him J.T. Kirk because I really couldn't think of anything better at the time and got him to level five before I became preoccupied with something else…
For my b-day I picked up Driver: San Francisco for $18. Best f—ing driving game I've played on the 360 yet! I'm only an hour or two into the game (thank you Gina!–joking, anything you need doll face, anything at all, you're more important) and I'll be doing a brief write up on it in the future. It brings to mind the great time I had playing Interstate '76 on the PC back in the 90′s. It also brought back faded memories of playing the original Driver (another all-time great driving game, but overshadowed in my recollections by I-76). And because my wife is a gem that I certainly do not deserve, she gave me Batman: Arkham City GOTY for my 43rd, another game I've been salivating to play but can't talk too much about right now because I'm only about an hour or two into it.
No, I'm not giving up gaming. Just relaxing a bit on the love I show it around here.
WRITERS NEED TO READ…
Something I have not been doing much of for a while now. I've been reading a lot of web related material, shorts and stuff but I haven't opened a book in a while. I promised my good friend, Eric Swett, I'd read and review his first novel Apocalypse Rising. I read it piecemeal when he had it going on his blog and now I get the chance to just sit back and enjoy it in its entirety. So you'll all have that to look forward to soon.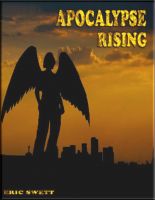 Unlike most gamers, writers are kind and encouraging people. I started a Twitter account (@ajbeamish) to ask Electronic Arts why all the official servers disappeared on Battlefield 3 when they implemented their rental servers even though I knew the answer was "because we're a bunch of greedy twats and you're stupid enough to keep throwing your money at us," and thanks to the charming and rather witty Nicole Chardenet (@nchardenet) giving me a wee bit of undue praise (gaming guru, Nicole? like I need to be pigeonholed!) I have 18 followers, most of whom I don't know from Adam but I'm sure they are writers so they can't be all that bad.
That brings me to Michael R. Hicks (@KreelanWarrior) a kind soul who has decided to give us all a couple of his works absolutely free. I'm looking forward to reading them over the coming weeks (after I get done with Eric's Apocalypse Rising first, of course). Get your copies from Michael's web site.
AND NOW THE PLAN IS…
Self publication (after I get the first drafts up). Eric, Nicole and my other new found writing buddies along with the many courageous souls who have decided to brave self-publication in this digital age have inspired me. I've already started putting up more of my writing on this blog and there are more draft posts waiting to be edited and cued up. My fear of getting published, whether it was of failure or actual success is diminishing. Exposing my talents (or lack thereof) here has helped me with that, along with the likes, comments and subscriptions they garner.
ADVENTURES IN TECH…

We took a leap into uncharted territory–for us anyway. My wife and I went out and got a couple of smart phones. The HTC Amaze to be exact. While I was doing research for peripherals and appropriate apps for my new phone, I noticed there wasn't any dependable information out there for much of it. Any blog I found regarding accessories for the device seemed to be a cut and paste "Amazon will pay me if you click this link" job rather than an objective, independent review. And there is no decent documentation regarding many of the apps and utilities you need to run on the phone. Expect to see me writing some useful (I hope) pieces on this.
Cost: $49.99
Not even a reach-around, and you better bring your own K-Y gel.
WOOT, play expansions early. Seriously? This gets you excited? Pathetic.
Exclusive in-game items. Like a knife only you can see. And dog tags and camo that make you clearly stand out as a complete and total fool with far too much disposable income.
5 themed expansion packs INCLUDING KARKAND (something you idiots already paid for.)
Reset your stats… … … Someone please explain to me the point of having stats now?
Increased platoon emblem layers and 10 "unique" decals. In order for this to be truly unique, you'd have to be the only one who bought the service.
Save up to five of your favorite Battlefield reports. For those of you who haven't figured out how to use a printer yet. Is the clock still blinking on your VCR?
Strategy guides from the same dumb-asses who completely fail at testing their own game and patches. A feature that has been available for ages now on YouTube for free and delivered by more qualified people that know how to play the game.
EXCLUSIVE"events," "videos," and double XP weekends. You know? So you can gain another pointless level and pad your now completely irrelevant stats.
Undefined "additional bonus content." In-game exclusive flip flops maybe?
More frequent patches… Yeah, NO, not really. I'm just fucking with you.
Good luck with that.
P.S. @Battlefielders, you don't have to worry about your game turning into CoD anymore. At this rate it would have to lap the track quite a few times to run neck and neck with CoD.
Is it you?
Is it you who's been orchestrated?
Is it you?
Is it you who's born frustrated?
~~~ Rancid, Born Frustrated
Apparently there was a rumor floating around that the Close Quarter DLC was going to be $30.
Rumor my ass.
Let me 'splain this to you, Lucy. The rumor wasn't floating around, it was floated around. EA's paid forum trolls circulated the $30 DLC rumor to gauge how the community would react. They probably went into overtime replying to their own posts with comments like, "Hell yes I pay that! Wotta deal!" and "WOOT! dis DLC is gonna be like a boss!" and let's not forget the ever popular and largely ignorant, "stop being poor and pay the $30."
I guess the mindless consumer masses weren't having it because according to an official EA press release the DLC is going to be $14.99.
That's still a far cry from "We don't ever want to charge for our maps and insisted to EA that this attitude was crucial when it came to keeping our community happy and playing together."
Shibby talks about it and some other BF3 bullshit in the following video.
I'm so glad I pulled my "mule out of this trace."
I'm quite excited about my recent gaming acquisition. If you've been following this blog you'll know I was somewhat disappointed with New Vegas. Compared to Fallout 3 I felt it didn't measure up. This feeling was solidified when I spent half a day trying to get out of the Ultra Luxe Casino without the game crashing.
New Vegas' glitches became glaringly apparent after that. I grew distant and set the game aside without finishing. A few months later I started it up again and saw the much needed and long awaited patch had been released. With the fix installed I loaded up my toon and quickly realized I had forgotten where I was going with the character. It's hard to play an RPG with no sense of identity. I wandered for a bit and noticed my arms no longer lifted above my head when sneaking with a weapon drawn. Confident Bethesda had fixed it, I resigned myself to creating another character and playing through the remedied game at a later date.
BF3 had me writing regularly and so I didn't mind the obsession. I never found the incentive to create a new character in Fallout New Vegas, until now.
Fallout 3 was the first game I played on my 360, lent to me by my neighbor Alex. I had Fallout 1 & 2 on PC in the 90′s but I never got into them. Fallout 3 was different. I was engrossed from the moment I started the game. The atmosphere, the immersive gameplay and NPC interactions, even the soundtrack was simply wonderful (another area where New Vegas fell short with me.) Sadly, I rushed too quickly through the main quest line and didn't get to explore the world much.
This time it's gonna be different. I have my very own copy of the game and all the expansion packs. Old b33m3R's gonna go traipsin' through the nuclear wasteland without missing a beat this time. And when I'm done with D.C. I'm gonna hit The Strip with rejuvenated enthusiasm. Hell, I may even download the DLC for New Vegas (when it goes on sale, of course!) God knows, I'm not going to be buying ammo in BF3 anytime soon.
I'm thinking I want to go bad guy, you know, DARK SIDE. Still a bit agitated and disappointed over the BF3 server fiasco. Maybe I should take it out on the denizens of Fallout 3. Charisma is utterly useless in it, I'll probably scavenge it to put points elsewhere. Why not get down and dirty with the roleplay skills and go f—ing Humungous on everyone?
Do some jet, party with the raiders, stab one when he or she annoys me, get jiggy with the slavers and help them move some human cattle across the desolate landscape. What's the point of freeing them? They'll just end up doing their dance for the man and mindlessly consume every idiotic virtual item presented to them anyway. Enslaved one way or another.
Problem is I'm never comfortable playing a baddy. It's not my nature. I know I cuss and scream a lot sometimes around here. It's only because I get a little too passionate and I have very little patience for internet foolishness. Sometimes the ghost of George Carlin possesses me… Okay, not really–I'd be a heck of a whole lot funnier if that were the case. I'm not a bad guy. Just ask my wife… Okay, maybe that's not such a good idea. I'm a sweet guy, honestly! Just ask my dogs… STANLEY, STOP BARKING AT THE F—Ing door… ahem…

So what do you guys think? Should I go medieval on the denizens of wasteland Washington D.C. and blow off these lingering frustrations or should I be true to myself and be the nice guy who finishes last?
How about I go all bad guy and keep short, in-character, journal entries here at TDCS. We can call it The Vault 101 Diaries. Or How I Managed to Piss Off Every NPC in D.C. What would you guys call it?
While my experience inside the game of Battlefield 3 has been mostly pleasant on the 360, if one were to judge the game by the caliber of person on any of the BF3 forums one could easily surmise that one would probably have more fun playing CoD at 12 in the afternoon on a snow day.
I read a lot of griping from the BF3 community and it's all pretty ASININE. PC gamers hate the console gamers because developers don't give the PC gamers enough attention. Snipers whining about not getting head shots every time they pull the trigger. Pilots whinging about Javelins taking them down before they've had a chance to decimate the enemy team for the third time. And everyone bitching about CoD players joining their ranks. Even well-respected commentators like DCRUColin have noticed it it.
What is it about people and this puerile need to feel superior to everyone, even those they have much in common with?
I wouldn't be bothered by it so much if it were only children doing it. Most of these cats are adults. It's kind of sad when you're nearing 30 years old and the biggest qualm you have in life is the gaming industry pays the consoles more attention than PCs.
The community I had first thought to be wonderful turned out in the end to be just as abysmal and dreadful as the CoD crowd, possibly worse. Maybe it's an FPS thing.
This will be my last BF Diaries entry. I had made this long rant about the community but I scrapped it. I talked extensively about how I laid forth a rational consumer grievance with the developers. I never bemoaned the gameplay just the the Slim Shady business tactics of Electronic Arts. In fact, I praised the gameplay. For this, I was met with a misery loves company attitude from PC players on BATTLEFIELDO who apparently have been "dealing with server issues for years," and a complete lack of concern for the situation because they all have rented servers in order to advertise their shitty BF3 montage YouTube channels. To infantile comments about my BF3 skills and how they somehow correlate to how much I hate the game from Battlelog forum members.
Once again, I never once said I hated the game. I guess the words I used were too big for these people. I should have used more LULZ and OMZG. Stuff simple minded folk can understand. All their comments did was prove my point about rental servers on consoles. Who in their right mind would want to play on a servers administered by these egotesticle (misspelling intentional) Jackasses?
I would like to take a moment to call out one particular nimrod from the Battlelog forums. awatkins1998, a 38 year old US citizen and obvious Fox Newz fan and full time Tea Bagger. He offered this "pearl of wisdom" in a poorly composed sentence…
"If you are a working man, have you ever heard, "There is another mule in trace." Even if you quit or sell your game, there is another player that will take your place probably with better stats. Meaning, BF3 will be fun without you making the game easy for me."
No, I've never heard, "there is another mule in trace." No one has. And let's look at our stats shall we, Mr. I Make The Game Easy For U?
MINE: 154h 36m played. 227 score/min. Accuracy 10.2%. W/L Ratio .096
YOURS: 617h 40m played. 321 score/min. Accuracy 13.5%. W/L Ration 1.38
300 mortar kills and 300 claymore kills (camp much? Probably not, campers have better stats)
Considering I only have 150 hours played compared to your 617, you're not much better than me. If at all. And after 617 hours of playing BF3, you're not even an average player, you're barely mediocre.
Here's the thing Johhny Dumbass, if you're going to smack talk, you should probably start with having the stats to back it up.
I've only gotten better as I've played and I don't tend to walk around bragging about my gaming "accomplishments" because, in the grand scheme of things, THEY MEAN FUCK ALL. They're not even accomplishments. They are virtual nothings developed by marketing dickwads to fill the trivial needs of pathetic little losers like you. Find me one gravestone that says "Beloved Husband and Father with a great K/D ratio."
You? You started as a shite player and 617 hours later you're not even mediocre. And seriously dude, 38 years old, 617 hours on BF3 and time to troll forums with inane, poorly written comments? Do you have a life? You're one of those baggers crying about government spending while collecting a disability check, aren't you?
Now that I've filled my puerile need to feel superior to someone daily quota, lets move on.
I had thought the BF3 crowd capable of rational thought. Objective thinking. I thought stats didn't matter to the BF3 crowd, that it was all about PTFO! I had done nothing but praise the BF3 community since I started playing. I see now this was mostly because I couldn't hear any of them thanks to the game's abysmal VOIP (NOW I bitched about the game's mechanics, and even that wasn't much of one.)
These aren't children, these are young adults (and thirty-something losers.) Young adults with a complete lack of respect for one another and anyone else. Internet anonymity is a wonderful thing. My generation has raised its kids well, you should all be very proud. Do me a favor, in the next life, wear a fucking condom.
The kids that catch the most slack on Xbox Live, the tweens, I've found to be far more respectful and polite than the adults that should know better. That's kind of sad.
And with that said, you have my very last entry for the Battlefield Diaries. Thank you for reading (and allowing me to vent.)
I've cut my losses and pulled my horse out of this race.
EA does not respect me. They don't respect us. I've given a lot of money to Electronic Arts during my lifetime. Customers like me made EA the power house it is today. Are we owed something? Hell yes we are. We are owed respect. We are owed honesty.
No other industry can treat its extremely loyal customer base so poorly as the gaming industry does and still retain its customers. No other customer base in the world is as willing to roll over and die as gamers. Gamers are appeased so appallingly easy it's pathetic.
Is it entitlement to expect the best customer service possible? The best quality product possible? The best bang for our buck possible? Is it entitlement to expect a company honor the original terms of the (implied) contract and purchase? Hardly. If you believe that, you need to turn off Faux Newz for a bit. People spend their hard earned cash on these games, just because it's entertainment does not make it any less important than any other household expense. I'll blog more about this entitled gamer bullshit at a later date. For now, lets stay focused.
I honestly expected better from DICE. They have lost my trust. I honestly expected more from the BF3 YouTube community. Seeing that all of them are using rental servers as advertisements for their YouTube ventures it only benefits them if official servers disappear, forcing people to use their servers. Not really a problem with the YouTubers that produce quality content. It's really annoying when Johnny Dickwad pesters you every few minutes to go check out his awesome montages of which you will undoubtedly be starring in in the most demeaning manner possible.
You change your business model for a product at the beginning of the products cycle, not in the middle of it. That's what CoD did. They didn't release MW3 and then, 6 months after the fact, say "oh, here's ELITE, you really need to purchase this if you want to play."
You have to ask yourselves where is EA taking BF3. To find the answer to this all you need to do is consider their sports titles. In order to compete on-line in an EA sports title you pretty much have to sink more money into the game (on top of your $60 investment) to purchase the unlocks that have very drastic affects on your virtual sport persona's abilities. The only good thing about EA Sports titles is they still have solid single player gameplay.
Did anyone really enjoy the single player campaign in BF3? Did anyone buy BF3 for the single player campaign? No. You bought it for the multiplayer as did I. And it's a wonderful multiplayer experience. One of the best games I have ever played. Hands down a far better game than MW3 (currently.)
But for how long? EA started selling unlocks that have an affect on gameplay as far back as BF2 (something I was not aware of when I purchased BF3.) They sold BF3 on the consoles under the precedent that official, dependable and balanced servers would be provided for the life of the game. Six months later they pass this cost onto the consumer in the form of rental servers. Rental servers that were marketed to the community as optional, as a great addition to the BF3 experience, never as a replacement to a feature the customer paid for when they purchased the game. Should we discuss on-line passes as well? I don't believe I need to at this point.
"It's only business," is the battle cry of the unscrupulous, the motto of the dishonest.
You want to know which blog piece I wrote gets the most views? It's this one:
Can't connect to EA Servers? SOLVED… maybe.
I published that piece on December 17, 2011. It's had over 8,211 views and climbing. That's over 8000 people that have had issues at one time or another with EA servers and looked elsewhere for help because EA's customer service is appallingly lax. That's just on my tiny little insignificant blog in the middle of nowhere.
So, I have to ask everyone including myself, all things considered, why are we still purchasing games with EA's logo on them?
Interesting enough, when I posted this on the Battleog forums I was met with such inane comments as, "you suxxors that's why you're mad," and other childish derogatory flames that only serve to solidify one of my points. Who in their right mind would want to play on servers administered by these jackasses? If you've got five minutes to waste, go check out the thread. The shear stupidity will not disappoint. What's really sad is EA is after the casual gamer market with these illiterate, egotistical idiots cheering them on and now representing them as server admins… You do the math.