Category Archives:
Gaming Harangues
Gaming praising, moaning and groaning.
While Gina keeps me very busy these days, I've had plenty of time to think about what I want to do with this space.
THE ENIGMA OF GAMING… I'm just not that into it anymore.
Nothing has garnered more hits on this blog than my gaming articles. On December 17th 2011 I posted Can't connect to EA Servers? SOLVED… maybe. Since then it has had 17,656 views. That's almost 20,000 people who have had a problem with Electronic Arts' servers in the past 8 months (mostly connecting with FIFA 12 from what I can tell by the search stats) and somehow managed to find my little backwater hole in the darkest depths of the world wide web to try and find a solution. That's roughly 20,000 people that could not find a solution directly from EA. That's roughly 20,000 people who will undoubtedly purchase FIFA 13 despite the precedent EA has set with them. On January 1st 2012 I posted FIFA 12 Control Reference Sheet for Xbox 360. It has had 13,266 views and counting. More than half that number downloaded the reference sheet. Only two people (so far) have bothered to take a moment of their time to thank me for creating something useful for them. I posted it on reddit and gamers bitched that I hadn't done a PS3 version and gave me the thumbs down. Are gamers so bleeding stupid they lack the common sense to correlate the buttons from two distinctly similar controller layouts together?
I grow more jaded and disillusioned with every exercise of corporate pomposity and bureaucratic nonsense I read about, with every nauseating example of fan boy sycophancy I come across, with every ass kissing rim job article by so called "professional" gaming journalists I have the displeasure of uncovering. I no longer feel much of the industry deserves the love, loyalty and respect someone like me is capable of giving. Developers are ego-driven tyrants (all corporations are these days), the journalists all graduated Summa Cum Laude from Rupert Murdoch's School of Unscrupulous Reporting and, with the exception of roleplayers, most of the community leaves a lot to be desired. I'm done wasting a majority of my efforts in this area. In the future the focus around here will be less on games. I'm still a gamer, born on the Atari 2600, will be till the day I die…
THAT BEING SAID… recent gaming experiences!
In Fallout 3 I couldn't blow up Megaton no matter how nice the apartment in Tenpenny Tower. I can't play a bad guy, it's not my nature. At least not these days, I don't think I've ever been a bad guy in my lifetime, definitely an asshole from time to time–but never a bad guy. Got my wisecracking "red-headed, punk stepchild of the wastelands" up to level 20 before I realized I was utterly bored with him. I padded his stats (sacrificed his charisma at creation) and by level 20 he was just sneakin' around the wasteland one shotting everything with bad ass lasers he found on an alien spaceship… So I re-rolled, didn't pad the stats and went for a more charismatic approach to the game. Called him J.T. Kirk because I really couldn't think of anything better at the time and got him to level five before I became preoccupied with something else…
For my b-day I picked up Driver: San Francisco for $18. Best f—ing driving game I've played on the 360 yet! I'm only an hour or two into the game (thank you Gina!–joking, anything you need doll face, anything at all, you're more important) and I'll be doing a brief write up on it in the future. It brings to mind the great time I had playing Interstate '76 on the PC back in the 90′s. It also brought back faded memories of playing the original Driver (another all-time great driving game, but overshadowed in my recollections by I-76). And because my wife is a gem that I certainly do not deserve, she gave me Batman: Arkham City GOTY for my 43rd, another game I've been salivating to play but can't talk too much about right now because I'm only about an hour or two into it.
No, I'm not giving up gaming. Just relaxing a bit on the love I show it around here.
WRITERS NEED TO READ…
Something I have not been doing much of for a while now. I've been reading a lot of web related material, shorts and stuff but I haven't opened a book in a while. I promised my good friend, Eric Swett, I'd read and review his first novel Apocalypse Rising. I read it piecemeal when he had it going on his blog and now I get the chance to just sit back and enjoy it in its entirety. So you'll all have that to look forward to soon.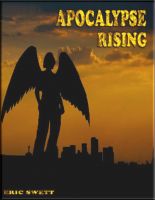 Unlike most gamers, writers are kind and encouraging people. I started a Twitter account (@ajbeamish) to ask Electronic Arts why all the official servers disappeared on Battlefield 3 when they implemented their rental servers even though I knew the answer was "because we're a bunch of greedy twats and you're stupid enough to keep throwing your money at us," and thanks to the charming and rather witty Nicole Chardenet (@nchardenet) giving me a wee bit of undue praise (gaming guru, Nicole? like I need to be pigeonholed!) I have 18 followers, most of whom I don't know from Adam but I'm sure they are writers so they can't be all that bad.
That brings me to Michael R. Hicks (@KreelanWarrior) a kind soul who has decided to give us all a couple of his works absolutely free. I'm looking forward to reading them over the coming weeks (after I get done with Eric's Apocalypse Rising first, of course). Get your copies from Michael's web site.
AND NOW THE PLAN IS…
Self publication (after I get the first drafts up). Eric, Nicole and my other new found writing buddies along with the many courageous souls who have decided to brave self-publication in this digital age have inspired me. I've already started putting up more of my writing on this blog and there are more draft posts waiting to be edited and cued up. My fear of getting published, whether it was of failure or actual success is diminishing. Exposing my talents (or lack thereof) here has helped me with that, along with the likes, comments and subscriptions they garner.
ADVENTURES IN TECH…

We took a leap into uncharted territory–for us anyway. My wife and I went out and got a couple of smart phones. The HTC Amaze to be exact. While I was doing research for peripherals and appropriate apps for my new phone, I noticed there wasn't any dependable information out there for much of it. Any blog I found regarding accessories for the device seemed to be a cut and paste "Amazon will pay me if you click this link" job rather than an objective, independent review. And there is no decent documentation regarding many of the apps and utilities you need to run on the phone. Expect to see me writing some useful (I hope) pieces on this.
The Los Angeles Kings struggled and stumbled into the Stanley Cup playoffs with a regular season record of 40 wins and 42 losses (including 15 overtime losses.) The Kings entered the playoffs as last seed and had to face the Vancouver Canucks in the first round of the playoffs. The Canucks had the best overall record of the entire league in the regular season with 51 wins and 31 losses (including 9 overtime losses.)
If the Canucks had been the elitist Battlefield or Call of Duty crowd of puerile, overly competitive, ass-wipe, braggart, Bitch Ass Gamers, they would have told the Kings to stop playing hockey and making the game easy for them.
The Los Angeles Kings (8th seed) beat the living tar out of the Canucks (1st seed,) 4 games to 1. They then proceeded to beat the living daylights out of the St. Louis Blues (2nd seed,) 4 games to 1. Not finished with kicking ass, the Kings moved on to utterly demolish the Phoenix Coyotes (3rd seed,) 4 to mother f—ing 1, and take their rightful place in the final battle for Lord Stanley's Cup–the oldest and most prestigious trophy in sports today. The last seed LA Kings finished their playoff run with a record of 16 wins and 4 losses. Only the 2nd team in NHL history to beat the top 3 conference seeds in the playoffs.
To place this into a gaming perspective… It's like the person with a win/loss ratio of .096 and a kill/death ratio of .67 suddenly coming in first on the leader-boards in every single game, 16 games in a row and placing second for 4 games.
The LA Kings went on to beat the New Jersey Devils and the best goalie of all time, Martin Brodeur, and win the Stanley Cup 4 games to 2.
And at the end of it all, as the players congratulated each other on a series well played, the two goalies approached, embraced and exchanged words of encouragement, support and mutual respect for what seemed like an eternity. And as they separated, the reporter's microphone picked up a glimpse of Jonathan Quick's parting words to Martin Brodeur…
Don't retire, you're still the best goalie ever. (paraphrasing)

A tear fell from the corner of my eye when I heard that. I wasn't rooting for the LA Kings. I'm a huge Brodeur fan. I wanted to see him get a fourth cup to crown his esteemed career with. It was at that moment I realized Conn Smythe Trophy winner Jonathan Quick and his last seed team of regular season mediocrity had earned and deserved Lord Stanley's prize in more ways than one.
I soon shed another tear for the FPS gaming community when I realized that no mater what happens in life, most of them will never be man enough to be as good as the LA Kings, the NJ Devils or any real athlete, no matter what their stats imply.
Those fucking socialists are at it again! Now Forbes is attacking the Almighty Precious Blizzard over the Diablo 3 hacking incidents. Lazy ass Occupiers need to get a God damn job…
Wait… Forbes? FORBES?
Human sacrifice, dogs and cats living together… mass hysteria!
The illustrious Paul Tassi wrote a succinct article about the horror of being hacked in Diablo 3.  For a solid contribution to the gaming community Mr. Tassi was attacked and belittled by paid forum trolls and the lemmings that follow them–because actually playing the game is obviously not as much fun as searching internet forums for places to post your cult-like sycophantic drivel.
If this problem is so widespread and prevalent as to have an automated recovery system in place, how on earth has Blizzard not devised a better way to keep your account secure?
How dare Mr. Tassi question Blizzard in such a reasonable manner!
I can't even repeat some of the names I've been called for daring to suggest that perhaps Blizzard needs to look at some of their security practices based on how easy it is to get hacked, our intrepid reporter explains.
I don't understand this incessant need to blame the victim, and this should be open for a civil discussion…
You can thank Newt "I fucked my wives in ways most people couldn't even conceive" Gingrich and the GOP for that whole blame the victim thing. It's the current conservative meme and gamers, especially ones that have an unhealthy fanatical obsession with corporations (cough, t-baggers, cough,) are simply imitating their parents from the safety of the couch in said parent's basement.
Lets bullet some of Paul's points to try and help these specials needs gamers understand.
The hackers only stripped the very last character played, no matter its level or the level of the other characters on the account.
I do not understand the argument about password security being the key when if hackers truly did have the passwords, all characters could easily be stripped, not just one.
If a $5 keyfob is what it takes to make their game secure, Blizzard should be eating that cost, not the player.
Even without the authenticator, there should be behavioral indicators in place to prevent instant account draining like what we've seen with this hack. In what world would a player want to strip his avidly played character of all their items and gold in under a manner of minutes?
Gaming Blend talks about it a bit more and discusses one user's comments on the Forbes article who claims to have proof of how this can happen. In a nutshell, Vaudevillian believes the hackers are taking advantage of internet latency to slip in, hijack and spoof the session. Of course none of the fanatics are having any of this and all of them are suddenly internet security "experts."
And yes, forum poster Ham, you're 100% correct. I am linking to your thread to prove something. I'm proving what a bunch of detrimentally fanatical, sycophant idiots you are. This is the cause you've taken up in life, Mr. Ham? Blind devotion, defense and support for a corporation that has legions of lawyers on retainer? Let me offer you some friendly advice, if Blizzard invites you to a gathering in Guyana, don't drink the Kool-Aid.
Not that I owe the Cult of Blizzard any explanations but I find myself asking, why does this story intrigue me so? I don't plan on purchasing Diablo 3. I'll never purchase a game whose single player campaign requires you to be on line. And no, I'm not writing about it to get people to "visit my blog." I get over 200 a day (sometimes 600)  just visiting my FIFA 12 Control Reference Sheet and EA server troubleshooting articles. As an uncompetitive introvert, I'm very comfortable with those numbers. Any more visitors and the pressure may just freeze up my writing productivity around here faster than SpiderBite's Diablo 3 account got hacked.
I'm following it because it fascinates me that such a fantastic and talented company like Blizzard, a company that is capable of creating and has created some of the best games in all of gaming history, is also capable of such amazingly stupid and thick headed bureaucratic bullshit. That, and I'm a wee bit bewildered by Blizzard's cult following.
Speaking of bizarre cult behavior, you know those whacky Koreans? Yeah? Well, the Korean government has launched an investigation into Blizzard Entertainment over allegations that the American computer game maker has refused to refund Koreans who purchased its latest real-time role-playing game Diablo 3.
Someone, please, please, PLEASE, explain to me how people who incessantly play Starcraft in internet cafes, sometimes to the point of death, still have the wits and common sense to question Blizzard's motives and actions, while here in the good old US of A we are stuck with carbon copies of this moron;
Yeah…because one guy that claims he was hacked (probably sold all his good stuff for less than it was worth and regretted<–guy in the screencaps that Blizzard says wasnt hacked), and some random guy that has no evidence that he WAS "Session spoofed" are more believable than BLizzard. K ~ Joe
Joe? Joe the plumber? Is that you buddy? Still suffering from delusions of adequacy I see.
EDIT 6/07/12: It seems that Blizzard is frantically deleting any post regarding this matter from their forums. That's not shady at all. They obviously have nothing to hide.
Even though SpiderBite confirms he did not have the authenticator set up, there are people out there saying they got hacked even with the authenticator running. I'm starting to believe these people are full of it. I'm pretty sure it's people sans authenticators getting hacked. HOWEVER, this possible fact does not alleviate any responsibility off of Blizzard's shoulders. There is something glaringly wrong with their security code.
Even if I had a PC that would run Diablo 3 I still couldn't get the game because I don't have an iPhone. I'd have to buy a $6 "keychain" from Blizzard to secure my account. ASININE. No offline mode and having to buy extra security to protect your account… This whole deal reeks.
I'm no coding genius but I do know enough to get me into trouble and it sounds to me like the problem is with the way Blizzard has the system set up to take advantage of the authenticators. The hackers could be tying into the signals looking for authenticators that are not there. I'm not buying the key logger bullshit at all. If a hacker has a key logger installed on your system, why would he go after your gaming virtual items instead of your bank account?
A week or two ago I wrote about Electronic Arts and how they pay people to troll forums and thwart discussions that could lead to adverse representations of the company. Not to be outdone, Blizzard is currently making Electronic Arts look like Elizabeth Warren portraying Mother Theresa in the Lifetime movie of the week.
Just a few short weeks after Diablo 3′s long awaited release–sans offline mode–people are logging into their accounts only to find all their hard earned (well, hard clicked for) items disappearing. Diablo is all about the items. The hunt for rare treasures to equip your avatar in the most uber-duper way possible is the only point in playing. Without the items Diablo is one mindless f—ing click fest.
In typical corporate fascist fashion, Blizzard–whom I honestly expected better from–is in an extreme state of Rupert Murdoch inspired denial.
"It's an incredibly serious allegation and the ramifications would be so much more far-reaching than what you've witnessed. Again, I understand you're upset, but I caution you not to perpetuate this nonsense any further." ~ Zathym, Blizzard Community Manager
I caution you not to perpetuate this nonsense any further? I caution you?
In an obvious effort to make AOL (a company that should have died with dial-up) look even less credible than it already is, Michael Sacco from Joystiq wrote a shining example of unadulterated sycophancy titled, you cannot get hacked by playing public games in Diablo 3. Mr. Sacco rammed his pablum through the gamer continuum despite ever growing evidence that people getting their Diablo 3 accounts hacked, regardless if they paid extra for an authenticator or not, is a reality. To further assist Mr. Sacco's quest for the quintessential Toady Twat of the year award, SpiderBite of NextGenTactics also got hacked.
I'm pretty sure SpiderBite knows how to secure his PC. Or maybe SpiderBite let himself get hacked to contribute to the conspiracy against the Almighty Precious Blizzard… I highly doubt it, the only evidence the undistinguished author offers in support of his theory that no one can get hacked in Diablo 3 public games is "Blizzard said so."
Way to report there, Geraldo Rivera. Your job application for Fox News has been received.
Not only has Blizzard let loose its army of paid forum trolls, they've obviously authorized double plus good overtime for them as well. The message boards are so full of fertilizer the house plants near my PC have started to perk up. How do I know they are all paid forum trolls? Simple. Humans will only ever whine and complain (hence why you are reading this.) Very few people, if any, will ever log onto a web site or type up a letter of good will and praise of their own accord.
I've worked every customer service job known to man. From face to face sales to phone sales and support to managing large corporate accounts. I've bent over backwards for every customer I've met (even the rude ones) and they have all thanked and praised me for my efficiency and attention to their needs (even the rude ones.) To my face. Not one ever called my supervisor or manager to say what a wonderful employee I was and how it was a pleasure to deal with me. The only time your bosses will hear from your customers is when they are pissed off. It's basic human nature.
I'm sure there are a few fan boys out there, but these jokers are more aptly described as sad sycophants. Losers looking for a job with a game company and figuring sucking ass is the best way to do it. What else can one do when competency eludes one in life? The sheer amount of "fan boys" not only on the Blizzard forums but on the gaming news sites as well is mind boggling. Do you honestly think that many gamers would take time out of their hectic and busy gaming schedules to troll forums in support of their beloved gaming corporations?
Firemen, people who have actually saved lives, don't get this amount of praise and glorification.
The reason gaming companies resort to such nefarious methods of misinformation, control and manipulation is simple. They do not respect their customers. You are a joke to them. Their corporate egos are so huge any rational argument that you deserve a safe, reliable and dependable quality product for your hard earned cash is met with a response of "stop being entitled."
This is not capitalism people, this is crapitalism and fascism and it won't stop until you stop throwing your money at them.
We're not the artists, they (the developers) are… ~ Steve Hayes, EA's Glory Days
I've been an ardent fan and supporter of Electronic Arts since the late 80′s.
NBA Basketball (multiple yearly purchases on multiple platforms,) NHL (multiple yearly purchases on multiple platforms,) Madden (multiple yearly purchases on multiple platforms,) Mutant League Hockey and Football, FIFA (multiple yearly purchases on multiple platforms,) Road Rash (and that skater offshoot I can't remember the name of,) Desert Strike & Jungle Strike, PGA Tour (multiple yearly purchases on multiple platforms,) James Pond, Zany Golf, UEFA, Medal of Honor (multiple yearly purchases on multiple platforms,) SSX (multiple yearly purchases on multiple platforms,) The SIMS, SimCity (multiple yearly purchases,) Rugby World Cup 95, Rock Band, Populous, Need for Speed (can't remember which ones exactly but I've had one or two of these,) NASCAR 2000, LOTR: Return of the King, LOTR: The Third Age, Jane's Combat Simulations (multiple versions, can't remember exactly which ones but at least 3,) The Immortal, The Godfather: The Game, Freekstyle, Fight Night (multiple yearly purchases on multiple platforms,) Dungeon Keeper, Command & Conquer (multiple yearly purchases on multiple platforms,) Clive Barkers Undying, Burnout (multiple yearly purchases on multiple platforms,) Budokan: The Martial Spirit, and most recently BF3.
These are all games I've purchased with my hard earned cash. And those are just the ones I distinctly remember playing. There's many more I've forgotten about or didn't realize were EA. My game library, especially on the SEGA GENESIS, has always maintained a healthy dose of EA gaming goodness.
But the Electronic Arts I fell in love with no longer exists. They used be the Steve Jobs of gaming. True innovators. These days they are more like the Vogons. A senselessly bureaucratic entity serving the villainous bidding of Wall $t.
Now, before you go rattling off your Faux Newz talking points, I'm not jealous or envious. I'm not anti-rich and I don't hate people for being successful. It's just that I don't define success as wasting perfectly good MIT engineering and science degrees coming up with Gaussian copula functions and other fancy statistical math to crash the economy with.
According to an article over at Gaming Blend, a former EA employee was purportedly paid to troll forum discussions and somehow ease off the heat that could potentially lead to adverse representation of the company. Apparently he wasn't the only one employed to do this. You can read all about it here. This is all part of EA's $747 million marketing budget (we all know how I feel about marketing by now, don't we?)
I find this mind boggling. Instead of addressing the concerns and criticisms of their customers honestly and openly, they hire tools to troll and belittle them. What's next? Huge mega corporations paying lobbyists billions of dollars to avoid paying taxes when it would be cheaper for them to pay the taxes in the first place. Oh, wait…
The article goes on to talk about rumors surrounding EA's dissatisfaction with the numbers Mass Effect 3 and Star Wars: TOR is netting them. Holy cow! If only I had their "problems."
Mass Effect 3′s story was obviously rushed, the writers got bored and they hacked at the ending. EA was resting on its laurels. Why wouldn't they? They had you hooked with the first two, they knew you had to buy the third. One thing you can count on from the mindless consumer masses is behavioral consistency. They can hire all the forum trolls they want, it won't stop the truth in the information age. Thanks to the internet, word of mouth is a very contagious thing these days, and lets face it, the trolls they're hiring aren't the sharpest tools in the shed. I'm pretty sure the tool posting "stop being poor and buy the game" over and over isn't applying to MENSA; ever.
As for the Star Wars MMORPG, the fact is many people in the USA and across the world are under-employed if they are employed at all. The working-class jobs in America have been shipped to China (thank you Mitt Romney) and the Chinese are still very busy farming WoW gold. To get by, people are working more than one job and therefore more hours, who has got the time for the endless level grind of the MMORPG skinner box? To expect the success of EQ and WoW after everything that has happened is asinine.
I hear tell that the Avengers film has grossed billions, if the sequel doesn't gross zillions it will be considered a failure. I'm no economist, but one thing I'm sure of is if you want a steady, growing and stable economy–slow and easy wins the race. The expectations that Wall $t. and stockholders place on production these days is highly unrealistic. These people just don't live on the same planet as the rest of us. Like I said, Vogons.
I vividly remember the day I purchased and installed NHL 96 for the PC. Back when everyone only had dial up (internet a lot slower than cable or DSL, kids.) I found other people that appreciated the game on EA's forums and we started a local NHL 96 league. Man, we had so much fun. We'd play games on our 56k modems. Mano-a-mano. Just two fellas, some beer and a game. We didn't throw temper tantrums when disconnects happened (and they happened a lot,) we simply redialed and got back to gaming. Good wholesome friendly competition. No power or skill boosts, no golden helmets or tribal tattoo goalie equipment. Those were the good old days. EA's glory days, when the game mattered more. Radiant gaming memories lost to time like tears in the rain.
These days EA's sports multiplayer is all about who's willing to pay for the unlocks. The amount of mindless consumer masses that fork out hard earned cash on virtual items that should come as part of the initial price of the game is stunning. If I buy an EA sports game these days it's just for single player, thank God they haven't botched that mode up yet. Because of EA greed, the MP sports experience is unbalanced and almost entirely pointless.
What's happened to Electronic Arts is the same thing that's happened to all America's titans of business. There is no need for them to court the customer anymore because we idiots will buy anything. It's all about the stockholder these days, and the stockholder knows bugger all about gaming.
No, EA, it's no longer in the game, it's in your bank account.
KOTAKU is reporting that there will be no game and no refunds for some unfortunate Australians who pre-ordered Diablo III from GAME retail stores.
Human sacrifice, dogs and cats living together – mass hysteria.
How could you do this to the Aussies? Who doesn't like the Aussies? They have cool accents, great actors, and they play a game similar to American Football, only they don't wear any equipment and they can only pass the ball backwards… Okay, sometimes maybe not the sharpest tools in the shed but a hot chick with an Australian accent is like ten times hotter than one without. 'Nuff said.
The retail store, GAME, is going into "administration." In America, administration generally refers to a bunch of sycophant incompetent douchbags that will fill your life with endless streams of red tape and end up sending your job overseas so they can score points with their feckless bosses. In Australia it sounds more like bankruptcy.
We called up one of the stores not receiving Diablo III stock. According to that store manager – cash placed on Diablo III pre-orders cannot be used to buy other games and it cannot be used to pre-order other unreleased titles. It is simply money the consumer will have to write off.

Incredibly this is not illegal.
WTF?
Technically, with GAME going into administration, consumers with paid pre-orders have become unsecured creditors. The Corporations Act determines the order that creditors are paid, and unsecured creditors are generally at the bottom of a long list. You can find more information about your specific rights here.
It's my understanding that Australians pay quite bit more for games than we do. Like, twice as much more. Hey, AlphaOmegaSin, got anything you want to add to this? (Give him a moment, he takes a bit to warm up here…)
Prostitots? I love that kooky guy (in a totally heterosexual, "you're really cool, dude" way, of course!)
A few weeks back I relayed a message from some big YouTube commentators (well, big for YouTube) in which they bitched and whined about BF3 balancing issues and how DICE doesn't fix them rapidly enough. I know my tone here sounds like I'm credulous about the the issues, I'm not. The DART and suppression are problematic but they are not game breaking and will be fixed in time. DICE has a solid record with balancing and patching their games. Just ask DCRUColin. It may take them until 6 months after the final DLC is released but they will perfect their game. Fact is people, game balancing in these multi-player shooters will always be an ongoing process, it's the nature of the beast. Deal with it. Though I do agree that there should be more frequent patches.
…after a couple of rounds I felt like I was stuck with a bunch of randoms playing a well polished clan. It wasn't fun.
I find it hilarious that these "big" YouTube names so easily jump on these petty grievances and haven't said one single word about the official servers going MIA on the consoles. In fact, when I tweeted a couple of them with snippy (but not personal) comments about the issue, they pretty much toed the company line.
Granted, none of them have ever proclaimed to be anything more than fan boys. And of all the commentators out there only SpiderBite acts like a real gaming journalist. GUNNS4HIRE used to have more of an edge but these days his reporting sounds more like he's greasing the wheels a bit too much. And WOODY is always greasing the wheels, but he's honest about it.
I realize that all these fellas have a horse in the EA rented server cash cow race. Regardless, the disappearance of official DICE servers is a serious consumer issue. This isn't some petty grievance about, "y0, DICE, Y I K33P G3TT1N K1LL3D BY D4R7?"
I'll give CoD credit in that it was completely upfront and honest about its business model well before it released MW3. They gave me enough information so I could make an informed purchase decision. I chose not to buy MW3 because I foresee in some future iteration of the game they'll be charging you for the ammo.
At the rate DICE is going they'll be charging us for the ammo by the time the second DLC is released. Remember, DICE once implied that their DLC would be free.
"We don't ever want to charge for our maps and insisted to EA that this attitude was crucial when it came to keeping our community happy and playing together," DICE senior producer Patrick Bach told Xbox World 360 magazine.
Thing is, at the time I purchased BF3, I purchased it with the understanding that a safe, reliable and dependable environment would be provided as part of the purchase price. When the idea of rented servers was tossed around, nowhere or at any time did EA or DICE imply that this feature would come at the expense of official servers.
I have no problem with rented servers. I have no problem with paying for quality DLC. But when you take away a feature I have paid for I get more aggro'd than a Sand Giant in Desert of Ro when a level 10 stupidly runs by him.
I have not found a decent game since the patch. And I've tried and tried and tried the rented servers. I went on ARS Server last night. Good folk on the ars technica forums but after a couple of rounds I felt like I was stuck with a bunch of randoms playing a well polished clan. It wasn't fun.
The beauty of the official servers is that they are a fair and balanced playing field. The rules are set in stone at the start and not randomly made up by admins with delusions of grandeur and warped senses of fair play that violate EA's own rules. The official servers are dependable and good to go when you don't have half an hour to spend searching for an acceptable rented server. The new playlists DICE introduced were wonderful and I found my self really enjoying the variety they added to my normal BF3 CQ only diet. I miss them sorely.
WAY TO STAND YOUR GROUND THERE GERALDO RIVERA!
And where do all the bastions of the BF3 community stand on this? Like I said, they all have a horse in EA's race so don't expect much. In fact, remember that little video I talked about at the beginning of this article? The one in which several prominent YouTubers banded together like some cheesy 80′s rock stars with a cause and denounced DICE for overdoing suppression. Yeah, that one.
Well, they recently posted the response to that video. In it you'll find more sucking up to DICE than the entire British political spectrum and Scotland Yard have done to Rupert Murdoch over the last 40 years combined. That's quite a feat. A feat well deserving of an award…
WHERE ARE THE DICE SERVERS? SIGN THE PETITION
Stand up for yourselves for Christ sake. Loyal customers deserve better treatment than this.
Woody likes to call himself the "unexceptional gamer." How many unexceptional gamers do you know who are able to quit their lucrative fortune 500 careers to make money gaming full time? Don't get me wrong, I like Woody. He's a cool guy. But when it comes to this unexceptional gamer crap he's suffering from Mitt Romney syndrome. Mitt wants us all to believe he's just like us, he tells us so in nearly every speech he makes. But Mitt ain't nothing like me. I don't make 50k a day for starters.
Game commentators make me feel the same way sometimes. EVERY video they post is that 'beast' video. That 45 and 10 killstreak. Every video is a solid testament to their uber-1337 skillz.
I'm a truly unexceptional gamer. In most games I barely break even with my K/D. And from experience I can tell you one thing for sure, if you play the f—ing objective, you are going to die and you are going to die a lot. So for someone like me to constantly see videos from gamers I respect, voices of the gaming community, in which they always appear to be nothing short of Arnold Schwarzenegger in the movie Commando is a bit demoralizing. Sure, they'll fess up sometimes and tell you that they are only stringing together their seemingly rampant successes and omitting their epic failures but it doesn't do much to boost my confidence any.
I never watch montages, I only watch these guys when they imply in their slug lines they have something to teach me. But sometimes I wish they would put all their mistakes on the table as well as their successes, so I don't feel like such a schmuck when playing.
Another way this adversely affects the gaming community is the influence these epic montages have over all the younger gamers out there (and quite a few of the adult gamers as well.) Unless you're pulling off these epic statistical accomplishments you're berated as a 'noob' and ignored, possibly even shunned from the community. I've seen guys end a game with 1 and 10 and less than 500 points in BF3. But his team won, and part of the reason his team won was because he was hanging in the back popping smoke so his team could move forward while leaving himself exposed to enemy sniper fire. He wasn't the only reason they won, he was ONE of the reasons they won. But his stats for that particular game will never reflect that nor will any fellow gamer give him credit for his sacrifice.
I now leave you with 55 seconds of your life that you will never, EVER get back…
Oh, DCRU Colin, wtf were you thinking?